Via Scoop.it – Art Installations
a film via: Via www.youtube.com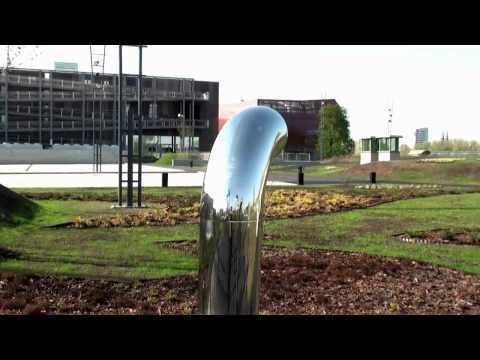 Wela (Elisabeth Wierzbicka) – Permanent interactive installation "The Whisperers" for the Copernicus Science Centre* in Warsaw
Installation "The Whisperers" consists of 16 metal columns put in the middle of the park of discovery. The olumns are equipped with sensors and speakers in order to detect visitors and distribute natural sounds such as the whisper of a stream, rain, wind … People can do real-time sound spatialization on the type of sound and played on the sound effects.
The visual and sound installation, compared to contemporary organs, symbolizes a virtual-real time in which we live and transports the viewer to the fourth more spiritual dimension.
The installation also shows the paradox of contemporary home desire to approach to nature by artificial means. *The Copernicus Science Centre (Polish: Centrum Nauki Kopernik) is a science museum standing on the bank of the Vistula River in Warsaw. It contains over 350 interactive exhibits that enable visitors to single-handedly carry out experiments and discover the laws of science for themselves. Many artworks have been installed in and around the Centre.
The Centre is the largest institution of its type in Poland and one of the most advanced in Europe.
http://www.wela-art.com/
Via www.youtube.com